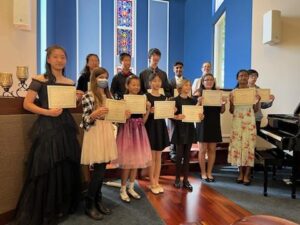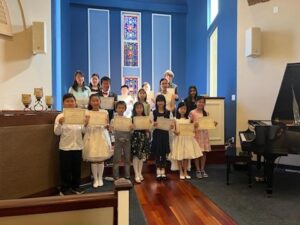 Our Romantic Festival was so fun. Thank you to our judges, Carol Seefeldt and Diane Snodgrass, and for all of the teachers and students who participated.
DATE: Saturday, April 29, 2023 – morning and early afternoon
Location: RB Community Church, 17010 Pomerado Rd, San Diego, CA 92128
Registration opens: March 20, 2023
Registration closes: April 22, 2023
Fee: $35 per participant (includes processing fees).  The teacher registers and pays online at NSDMTAC.com.

FESTIVAL RULES AND GUIDELINES
Consent Form: If the parent has not already filled out the Student Consent Form for the 2023/2024 school year, please fill out this form and email it to nsdmtac@gmail.com no later than April 28, 2023.
This Festival covers music from the Romantic, Late Romantic and Impressionist Periods.
It is a semi-competitive event, with all levels and instruments welcome.
Students must dress in appropriate recital attire and stay for the entire recital in which they perform.
Student limit: 12 students per teacher.
Times limits are as follows:
Elementary: 3 minutes
Intermediate: 5 minutes
Advanced: 7 minute
The music must be memorized.
Evaluators must be provided with original copies of the music with the systems numbered. No photocopies are allowed.
Students will receive a mark of Superior, Excellent or Good. Gold, Silver, and Bronze medals will be awarded.
Teacher volunteers are important and appreciated. If you have students participating in the festival, please let the chair know if you can volunteer to help.